BIM2field in Brandýs
Use of augmented reality layers in road construction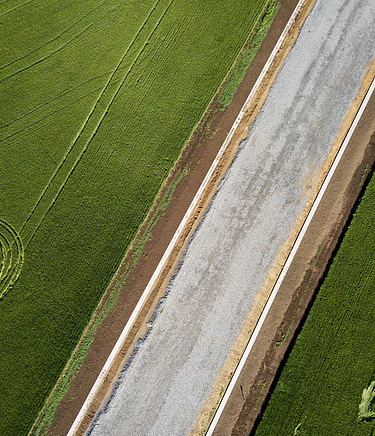 At a BIM2Field project in the Czech town of Brandýs nad Labem, the smartphone is the most important digital tool for our model-based work management on the construction site. Using an augmented reality (AR) layer, we overlay the 3D information from the BIM model (Building Information Modelling) directly onto the natural landscape. This not only makes it easier to check the construction progress and plan the next steps, it also saves a lot of paper!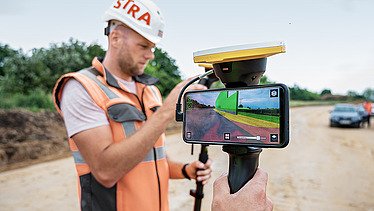 Have you ever used your smartphone with an AR application? For our staff working in Brandýs, Czech Republic, AR-enhanced building has long been a routine on the construction site. For the work on a 4 km long bypass road, our colleagues are using an AR layer on their smartphones, placed directly from the BIM model onto the natural landscape in a 3D view. The advantages: a constant flow of information, more planning quality and the elimination of countless complex 2D paper construction plans. With BIM2Field, STRABAG's construction sites are becoming paper-free and more sustainable as a result.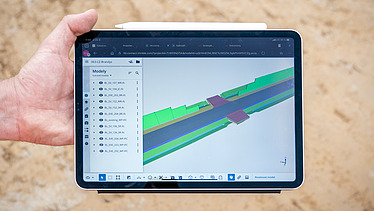 A match made in heaven: the combination of smartphone and GPS antennas makes all the difference!
But that's not all our smartphones can do. By coupling the phones with a GPS antenna, our colleagues can precisely localise their devices on the construction site to provide extremely accurate location data. This enables us to carry out reliable surveys without the need for bulky equipment and in a shorter amount of time. Precise, fast and to the point!
Uploading the construction site to the cloud
With BIM2Field, the construction site extends far beyond the actual location of the project. The digital tools collect a variety of digital data about the construction site in a cloud-based data environment that can be accessed by all project participants. The important thing is to standardise the data so that it can be accessed and used by people and machines, for example by the construction equipment controlled by the BIM data on site. With BIM2Field, we are taking another logical step towards digitalising the construction site – improving the flow of information, speeding up the processes and making the work more efficient overall.
This might interest you as well.
Digitalisation, Processes and Innovation