STRABAG INNOVATION DAY
How we offer innovation a stage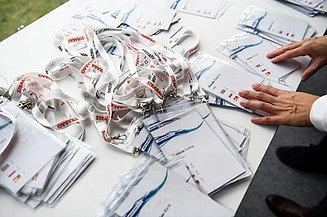 Our STRABAG INNOVATION DAY is an in-house event where we can exchange ideas and knowledge on the subject of innovation and digitalisation. First launched in 2014, the event has since been held every two years at a different STRABAG location. The aim of our STRABAG INNOVATION DAY is to inform employees about the latest innovations within the group and to give them the opportunity to network across national borders.

At our most recent INNOVATION DAY, INNOVATION DAY 22 (or ID22 for short), which took place on 28 and 29 September 2022 in Pruszków, Poland, we were able to inspire 1,400 visitors with around 70 innovation projects. Besides the project exhibitions, the event also featured numerous presentations, interactive workshops and personal discussions with the STRABAG board members to bring the innovative strength of STRABAG to life.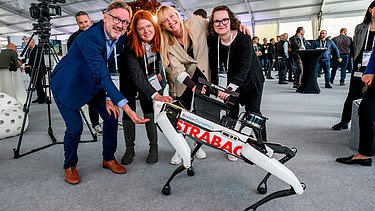 A space for ideas as the foundation for innovation
With our new corporate slogan "Work On Progress", we want to show that we are proactively confronting the environmental and economic challenges of our time. To ensure that "Work On Progress" is not just an empty promise, we need – now more than ever – forward-looking ideas that will enable us to successfully master these challenges.

The good news: our own STRABAG employees are a major source of just these ideas. Ideas to simplify our daily work routines, make processes more efficient and help us shape the future in a more sustainable and resource-friendly way. To turn these ideas into practice, we need a space where we can discuss these visions and put their feasibility to the test. The STRABAG INNOVATION DAY is one such space. A place where ideas, prototypes and innovations can be discussed in a mutual exchange, perhaps even improving on them thanks to fresh perspectives and expert feedback.

An important goal of the INNOVATION DAY is to present the topics in a way that is as varied and accessible as possible. This allows everyone to effectively acquire and pass on the knowledge from the innovations on display. The exhibitors and the organising team always strive to present the projects in a maximally interactive, modern and exciting way – with the result that everyone contributes to spreading the innovative spirit of STRABAG.
Knowledge is there to be shared: Expansion of INNOVATION DAY to INNOVATION DAY DIGITAL
As physical events are limited in terms of space, but we still want to give as many people as possible the opportunity to access the group's innovation knowledge, INNOVATION DAY 22 was the first year that we also expanded the event to include a digital format: INNOVATION DAY DIGITAL (IDD for short). In concrete terms, this means that the content of ID22 was transferred to a virtual state-of-the-art trade show platform with a 360° environment. Of course, the digital format maintains the interactive character of the real-life event. On the opening day of IDD, we offered a varied programme of activities where visitors could interact directly with the exhibitors, take part in creative workshops or exchange ideas with other colleagues in the networking area. There also was a broad on-demand offering with image and video content of the physical event in Pruszków. The virtual trade fair platform was accessible for a total of almost three weeks, giving visitors enough time to explore the content of the INNOVATION DAY.
Impressions from the previous events
INNOVATION DAY 22 in Pruszków was already the fourth edition of the successful event series that began in Vienna in 2015, with further instalments in Bratislava (2017) and Stuttgart (2019). Click here for an overview of the individual events:
2022 in Pruszków
After a somewhat longer break, the fourth INNOVATION DAY took place at the STRABAG headquarters in Poland, where we welcomed around 1,500 visitors. In addition to numerous innovation projects, the programme also included a keynote speech by futurist Aleksandra Przegalinska, STRABAG talks with the SE board members and various live shows and pitch presentations by the exhibitors.
2019 in Stuttgart
More than 1,000 innovation enthusiasts were treated to a concentrated display of our innovative strength at the third INNOVATION DAY in Stuttgart. The 39 booths showcased new developments, building materials, processes and equipment that are set to play a greater role on the construction sites of the future. An especially large number of exhibitions were devoted to developments in the field of digital construction processes as well as more resilient, more sustainable and more precisely processable building materials.
2017 in Bratislava
Invited by STRABAG SE board member Siegfried Wanker, innovation enthusiasts met on 18 October 2017 to learn about exciting ideas from other fields. The concept of the event in Bratislava: The almost 40 teams presented themselves and their developments at exhibition booths and in three-minute pitches in which the focus was on the added value of their respective innovations.
2015 in Vienna
The first STRABAG INNOVATION DAY was held at the corporate headquarters in Vienna on 23 November 2015. Employees from 40 corporate units engaged in lively discussions around the question: How can we remain competitive as a technology group for construction services in the future?