Licence to print: a construction method that saves resources and time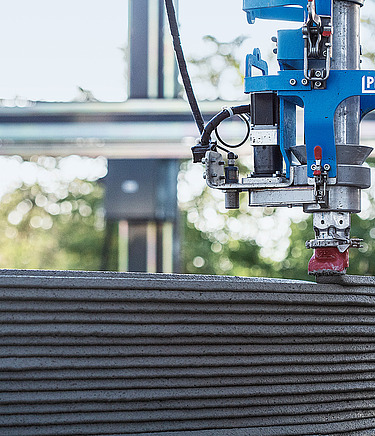 The first 3D-printed building in Austria
Austria's first 3D-printed building was realised in Hausleiten, Lower Austria, where, in collaboration with 3D concrete printing pioneer PERI, STRABAG completed the structural works for a 125 m² office building extension at its asphalt mixing plant. The project was completed using one of the largest 3D printers in the world: the BOD2 gantry printer.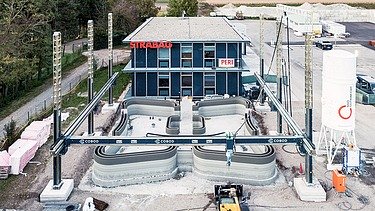 How does 3D concrete printing work?
The print head moves about three axes on a securely installed metal frame, which allows the printer to be placed at any position within the structure being built. The printer applies the special print material (a dry mortar) in layers. Laying down two parallel printing paths creates a hollow wall that is then backfilled with cast-in-place concrete. To create the outer wall, a second cavity is formed by printing another mortar path further outside the previous wall and filling this with thermal insulation material.

During the printing process, the printer already takes into account the necessary spaces for pipes and cables that need to be laid later. The BOD2 is certified in such a way that work can also be carried out in the print space during the printing process. This makes it possible to easily integrate manual work, such as the laying of cables and pipes, into the process.
 
Before the work can start, the project is first created as a BIM 5D model, which is then translated to the 3D printer using slicer software.
Tremendous potential: non-standard shapes with a short construction time
Where its use makes sense, construction 3D printing offers several advantages. The gantry printer used in Hausleiten was able to lay the concrete at up to one metre per second, which significantly shortened the time needed for construction. As a result, the structural works in Hausleiten were completed in just around 45 hours of pure printing time. The method also offers significantly more design freedom compared to classic concrete construction, with the possibility of easily creating architecturally complex rounded designs.
3D concrete printing gives the construction industry an important boost of innovation and represents an exciting addition to the range of available construction methods. With this pilot project, we, together with our partners, have made significant advances and have jointly influenced the progress in 3D concrete printing.
This might interest you as well.
Digitalisation, Processes and Innovation